Luminous Voices Music Society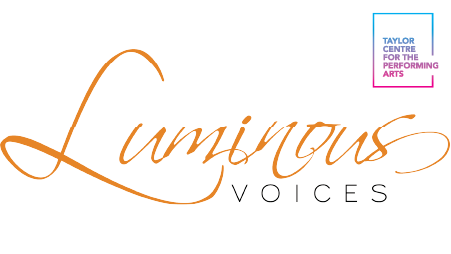 October, December, February, and April of the 2019-2020 concert season

We regret to announce that, due to COVID-19, the April 10 concert has been cancelled. For further information, please contact Luminous Voices at:
587-889-8370 or info@luminousvoices.com

Luminous Voices comprises some of the best ensemble singers in the Calgary area, collaborating with singers and musicians from across North America.
Luminous Voices is directed by Dr. Timothy Shantz, who founded the ensemble in 2012.
Our 2019/2020 Season:


Nymphs of the West

Sunday, October 20, 2019 at 3:00pm
The Bella Concert Hall, Mount Royal University
Malcolm Forsyth - Hesperides with 2 harps
Malcolm Forsyth - Endymion's Dream
Scott Ross-Molyneaux - new commission for harp & choir world premiere
Sven-David Sandstrom - Four Songs of Love
Ivo Antognini - I am the Rose of Sharon
Gabriel Faure - Cantique de Jean Racine with harp
Gustav Holst - Choral Hymns from the Rig-Veda, Group III Op. 26 No. 3 - SSAA and harp
Leonard Enns - The Sunne of Grace choir with harp and solo soprano
A Luminous New Year's Eve
Special guest Mark Shilansky, piano, jazz piano

Tuesday, December 31, 2019 at 8:00pm
The Bella Concert Hall, Mount Royal University
The Tudors
(smaller choir of 16)

Sunday, February 23, 2020 at 3:00pm
The Bella Concert Hall, Mount Royal University
Thomas Tallis - O Nata Lux
William Byrd - Mass for 5 voices
Thomas Tallis - Magnificat for Four Voices
Thomas Tallis - Ave, Dei patris filia
John Sheppard - The Lord's Prayer
John Sheppard - Hec Dies
John Sheppard - Libera Nos, Salva Nos
Two more commissions – details coming
Allegri's Miserere and Togni's Lamentations
Special guest Jeff Reilly, bass clarinet

Friday, April 10, 2020 at 7:30pm
The Bella Concert Hall, Mount Royal University
Allegri - Miserere Mei, Deus
Lasso - Timor et tremor
Morales - Emendemus in melius
Byrd - Ave verum corpus
Roderick Williams - Ave verum corpus Re-imagined
Togni - Lamentatio Jeremiae Prophetae
Most concerts will be preceded by an open rehearsal and/or Community Singing workshop – details will be announced in September 2019